Introduction
Twenty years ago, Slovenian-Americans rallied together to create United Americans for Slovenia (UAS) to appeal to President George Bush and government officials to recognize Slovenia as an independent, democratic nation. For the first time since World War II, Slovenians across the United States joined to assist the homeland.
For the next nine months, leaders of Slovenian-American organizations, representing 659 lodges, societies, parishes and cultural centers across the country, met regularly as the United Americans for Slovenia to plan communications strategies and events to call attention to Slovenia's independence.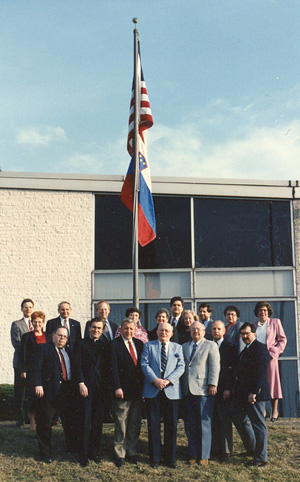 The UAS printed petitions and 50,000 postcards addressed to President Bush to request his recognition of Slovenia. Two of the most effective UAS strategies were phone-ins. On October 7, 1991, and February 12, 1992, thousands called the White House to demand recognition of Slovenia. The UAS also placed an open letter to President Bush in the Washington Post.
Government leaders, such as Ohio Senator John Glenn and Ohio Congressman Dennis Eckart, met with the UAS to discuss U. S. recognition. Visiting officials from the new government of Slovenia, including Ernest Petrič, Dimitrij Rupel, Janez Dular and Zoran Thaler acknowledged the efforts of the UAS and thanked the representatives of the group's member organizations.
On April 7, 1992, President Bush recognized Slovenia as an independent nation. The United Americans for Slovenia called a press conference to raise the flags of the United States and Slovenia.
The UAS began a new campaign for U. S. acceptance of Slovenia as a member-nation of NATO. Thousands of postcards were sent to President Bill Clinton and a call-in marathon tied up White House phone lines. UAS representatives were invited to the White House to discuss the U. S. stand on Slovenia in NATO.
With Slovenia secure in its independence and international recognition, the United Americans for Slovenia declared their mission accomplished in 2006.
UAS Members
United Americans for Slovenia 1991-2006
| | |
| --- | --- |
| Edmund Turk | Chairman and Legal Advisor |
| John Pestotnik | Vice Chairman |
| Stanley Ziherl | Vice Chairman |
| Fr. John Kumse | Treasurer |
| Tony Petkovsek | Radio Media Advisor |
| Dr. Rudolph Susel | Print Media Advisor |
| Joseph Valencic | Public Relations Advisor |
Alliance of Slovenian Americans
American Home Newspaper
American Mutual Life Association
American Red Cross
American Slovene Club
American Slovene Committee for Cultural Exchanges
American Slovenian Catholic Union
Cleveland Slovenian Radio Club
Cleveland Federation of Slovenian National Homes
Frances and Jane S. Lausche Foundation
Primorski Klub
Progressive Slovene Women of America
St. Lawrence Parish, Cleveland
St. Mary Parish, Cleveland
St. Vitus Parish, Cleveland
Slovene National Benefit Society
Slovenian American Heritage Foundation
Slovenian American Council
Slovenian Choruses of Cleveland
Slovenian Pensioners Association of Barberton, Ohio
Slovenian Women's Union
United Slovenian Society
TIMELINE
1991
---
June 25
Slovenia declares independence from Yugoslavia, six months after Slovenians vote for secession in a democratically-held plebiscite vote.

June 26
The Yugoslav Army attacks Slovenia, closing border posts and halting communications with the outside world. Slovenian-Americans and their organizations first express concern to United States President George Bush and officials and then begin war relief efforts.

June 30
Attorney Charles Ipavec and Cleveland Yugoslav Consul General Matjaž Jančar call an emergency meeting of community leaders at Cleveland's Slovenian National Home. Representatives of the country's leading Slovenian-American fraternal societies, parishes, cultural groups and action committees are chosen to serve on a special board, led by attorney and former Cleveland judge Edmund Turk, to call United States attention to the situation in the homeland.

July 1
The United Americans for Slovenia (UAS) [Združeni Američani za Slovenijo] is established to unite America's Slovenian organizations to seek United States recognition of Slovenia's declaration of independence and establishment of full diplomatic relations. Stanley Ziherl, President of the American Mutual Life Association (AMLA) [Slovenska dobrodelna zveza], offers his offices for meetings. A letter is drafted to President Bush and members of Congress to recognize Slovenia. UAS representatives meet weekly.

July 4
UAS volunteers send letters and information packages to President Bush, senators and congress members, along with special editions of the American Home [Ameriška domovina] newspaper prepared by publisher James Debevec and Editor Rudolph Susel. Mailings to Slovenian-American organizations, clubs and parishes distribute thousands of pre-printed postcards and petitions asking President Bush to accept Slovenia. Joseph Valencic directs all communications and publicity. John Pestotnik coordinates mailings and special projects.

July 5
Matjaž Jančar is the first Yugoslav diplomat to declare allegiance to Slovenia and becomes the first representative to the United States from the new nation. Without accreditation, he must soon return to Slovenia.

July 27
Ohio Congressman Dennis Eckart announces support for Slovenia at a UAS session.

August
The UAS continues mailings to U. S. officials and monitors recognition efforts in Washington and Ljubljana. Similar overseas organizations are in contact with the UAS. American and Slovenian community leaders meet with the UAS. The American Home [Ameriška domovina] and Slovenian-American fraternal publications promote UAS recognition efforts nationally to members and subscribers.

August 3
A radio marathon, hosted by Tony Petkovsek and the American Slovene Radio Club from his studio at the Kollander Travel offices, generates 600 donations to fund UAS actions. The four-hour broadcast on Ohio station WELW receives calls from around the country, London and Ljubljana.

August 5
Ohio Senator John Glenn announces support for recognition of Slovenia at a UAS press conference. Glenn and Eckart send a joint statement to President Bush to recognize Slovenia.

September
The last Yugoslav Army troops withdraw from Slovenia. Slovenia opens an office in Washington D.C. headed by Dr. Ernest Petrič.

September 13
Each day through October 8, the UAS sends petitions with 500 names to the White House asking President Bush's acceptance of Slovenia as a democratic nation.

October 7
Thousands call the White House in a UAS-sponsored phone-in. The UAS prints postcards asking President Bush for United States recognition. Eventually he receives 50,000 postcards from Americans and UAS-member societies from coast to coast.

November
UAS members monitor resolutions being drafted in Congress for U. S. recognition of Slovenia.

November 2
Dr. Ernest Petrič and Janez Dular of the Slovenian Foreign Ministry meet with the United Americans for Slovenia. Both express Slovenia's gratitude for the recognition efforts by Americans. Slovenian newspapers, television and radio report on UAS activities and efforts.

December
Editors of Slovenian-American fraternal society newspapers follow the lead by the UAS and step up White House contact efforts by their members.

December 6
President Bush imposes economic sanctions against Slovenia, Yugoslavia and former republics, canceling aid and trade benefits.

December 17
The UAS publishes an advertisement on the Federal Page of the Washington Post newspaper appealing to President Bush and Congress to recognize Slovenia. Dr. Petrič and UAS Chairman Edmund Turk receive many calls and letters of support.

December 18
The European Community announces plans to recognize Slovenia.

1992
---
January
The UAS contacts members of Congress to support Kansas Senator Robert Dole's resolution for recognition of Slovenia.

January 15
The European Community recognizes Slovenia. Canada, Australia, Japan and many other countries soon follow.

February 12
A second national White House phone-in is organized by the UAS. Busy phone lines extend the phone-in two more days.

March
The UAS tracks rumors of impending U. S. recognition.

April 7
President Bush recognizes Slovenia as an independent, democratic nation and lifts sanctions. Slovenia now can be considered for membership in the United States and World Bank. The UAS holds a press conference with Zoran Thaler visiting from the Slovenian Foreign Ministry. UAS representatives raise the flags of the United States and Slovenia in front of the AMLA building.

April 10
The UAS hosts a celebration at Cleveland's Slovenian National Home with guest speakers, including Ohio Governor George Voinovich. More than 100 singers from ten local Slovenian choruses debuted the Zdravljica, the national anthem of Slovenia, for the 800-plus audience.

April 21
The UAS recognizes Dole, Eckart and Glenn with plaques at a Washington reception in honor of Slovenia.

August 6
President Bush grants full diplomatic relations between the United States and Slovenia.

August 25
The United States opens an embassy in Ljubljana.

September 7
The UAS delivers a U.S.-made flag of Slovenia to President Bush in gratitude for his full acceptance of Slovenia as an independent, democratic nation.